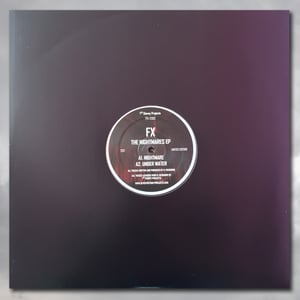 £

7.99
02/12/15 UPDATE!!.......NOW BACK IN STOCK!! Please note, all orders of this record placed after 02/12/15 will ship on BLACK vinyl, repressed from the original master metalwork.
----------------------------------------------------------------------
Released on 7th Storey Projects, and now available here in limited, extremely high quality 4 track clear 12" vinyl, are 4 brand new oldskool darkside cuts from Demonic Possession's 'FX'!
A1 - Nightmare - Samples 'A Nightmare On Elm Street' - with creepy atmospheric pads and stretched drums - don't listen to this one alone!
A2 - Under Water - Orca style atmospherics, rolling breaks and rumbling sub-bass lines - topped off with the biggest Anastasia stab you will have heard in a long time!!
AA1 & AA2 - Twilight Parts 1 & 2 - Dark, dark, dark! This duo of tunes will have shivers running up your spine - heavily influenced by the Basement Records and Creative Wax sounds, these are two killer tunes especially for the oldskool heads!
Audio Links:
Please be sure to select the correct shipping option when checking out.