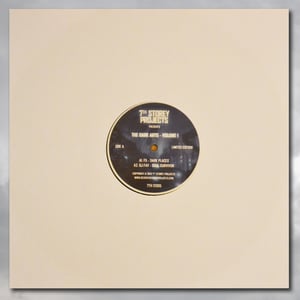 £

7.99
BRAND NEW on the 7th Storey Projects label!
The Dark Arts Volume 1...
Featuring four brand new tunes from four of the leading exponents in the darkside hardcore/drum and bass genre genres – and lovingly mastered by Beau Thomas at Ten87 Mastering, this EP offers something for everyone, as long as you like your music tinged with darkness!
First up is the new track from FX (Demonic Possession Recordings & The Nightmares EP on 7th Storey Projec ts) – 'Dark Places' – continuing FX's domination of the old skool darkcore sound!
Second up on the A side is the wicked amen driven 'Soul Survivor' by DJ Fav (HWND Records) – check the bass and haunting chimes!
First up on the AA side is the hauntingly beautiful 'Immortal' by Wellbelove (Chaos & Julia Set, Tango & Dom) – marking a triumphant, not to mention long-overdue return to vinyl for one of the men responsible for some of the biggest darkside tunes in 1992 and 1993, Dom Fripp. This remarkable tune has been made especially for The Dark Arts Volume 1 – and evokes memories of the heady days when Metalheadz ran the game.
Last, and by no means least, is the magnificent 'Ruler Of Olympus' by Worldwide Epidemic (Worldwide Epidemic EP) – this faithful tribute of some of Basement Records' greatest tunes is a must for any fan of Jungle Tekno!
Presented on the highest grade 140gram virgin vinyl available, and pressed by Record Industry in the Netherlands – this immense EP is strictly limited – so grab one before you miss out!
Tracklisting:
A1 - FX - Dark Places
A2 - DJ Fav - Soul Survivor
AA1 - Wellbelove - Immortal
AA2 - Worldwide Epidemic - Ruler Of Olympus
Please be sure to select the correct shipping option when checking out.