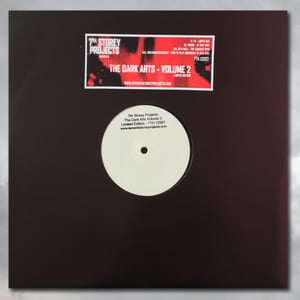 £

7.99
The Dark Arts Volume 2
A very personal project for all those involved, this series aims to release tracks made by both established and new artists - the four artists who have contributed are 7th Storey Projects regular, FX (Demonic Possession Recordings), Dev/Null (8205 Recordings, Blog To The Old Skool) and two debutants to vinyl, the very talented, Canada-based Fringe and finally (but not least) Breakbeatscientist, well known for running the ever-popular Strictly Nu Skool blog.
Featuring four killer, authentic sounding 1993-style darkside cuts by four prominent members of today's scene - this EP is sure to please anyone who likes their Hardcore/Jungle on a (very) dark tip!
Track list:
A1. FX - Lights Out
A2. Fringe - Is That Why
B1. Dev/Null - The Luckiest Spin
B2. Breakbeatscientist - Time To Play (Doorway To Hell Mix)
All tracks have been lovingly mastered and cut by the legendary Beau Thomas at Ten Eight Seven Mastering in London, and pressed by Optimal:Media in Germany, so top quality is assured.