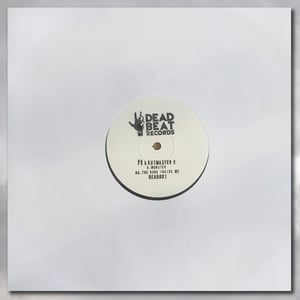 £

7.99
SOMETIMES THE WORLD NO LONGER NEEDS A HERO... SOMETIMES WHAT IT NEEDS IS A MONSTER!
Demonic Possession Head Minion FX and the underworld's favourite disciple of the darkside, KutmasterK, team up to bring you a double strength dose of darkside!
Side A features 'Monster' which marks Deadbeat Records' intentions from the start, sampling legendary bloodsucker Dracula to create a mantra for this brand new label's first foray into the darkside. Relentless 4/4 jungle tekno breaks, a whiplash inducing synth line and classic oldskool mentazms, make this a peak-time nightmare for any dancefloor!
Flip over to side B, for 'The Dark Inside Me' - a filthy amen tearout, with panicky b-movie vocal snippets and the creepiest pad section this side of 1993! :-O I don't wanna die in here!... You're not gonna die!
Bag this 12" today, while its still warm!
Please be sure to select the correct shipping option when checking out.