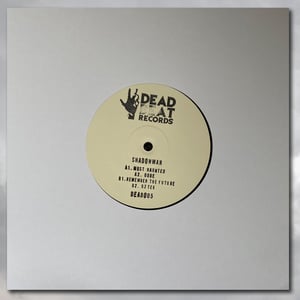 £

8.99
FX's shadey alias, Shadowman, pounds out four jungle tekno dancefloor smashers on a brand new slab of black crack from Deadbeat Records!
Dont expect a cupboard to remain closed, or a plate to remain unsmashed as the title track 'Most Haunted' summons the spirit of '93 and beyond! With pounding kick drums, jagged lead synths and everyones favourite ghost hunter calling the shots - if these breaks aren't enough to rattle your bones, then you may well be dead yourself! :-O
A1 - Shadowman - Most Haunted
Flip over for the apocolyptic 'Remember the Future'. Brutal synth riffs and military grade breaks merge the past, the present, and the future into one hell of an unholy racket to bus' up your speakers with!
B1 - Shadowman- Remember the Future
This cut comes complete with two more acid tinged jungle tekno pounders for your box:
A2 - Shadowman - O.O.B.E
B2 - Shadowman - 93 Tek
Strictly limited run of 100 stamped white labels. Grab one now , while it's still warm off the press! :-O