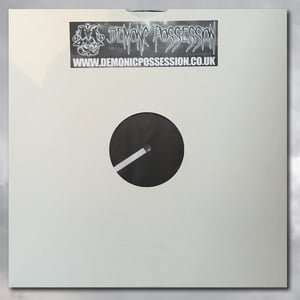 £

29.99
Bolier Room Scratches - Darkside Scratch Record
All of your favourite darkside samples and film snippets cut and arranged on a custom made, super thin 12" vinyl scratch record!
Not only that but we have also thrown on many, many other classic scratches (beep, aaaah, FRESH! etc..) for the connoissuers!
All of the sounds are cunningly arranged to fall at exactly the same point in each rotation, and a simple marker tells you precisely where to be at all times for super-fast switching.
Strictly limited edition, and custom pressed to order! If the store says 'Sold Out', please contact us to enquire about ordering.
Track list:
Track 1 - Power of Christ compels you! (155 BPM loop)
Track 2 - Darkside scratches
Johnny! 1
Johnny! 2
Johnny! 3
Ya Badbwoy
What happened to Ricky?
I don't know!
Ricckkkyyyy!
We're all gonna die here
Scottie!
Is there a way..
We're not gonna die
Magical
Je' t'aime
Help Meeeeee!
Scream 1
She said the Jungle
It just came alive..
Please… Don't hurt me
Music so wonderful
Blaster
Wonderful synth
Oooh, its awfully dark..
Scary
Energy
Don't be afraid
31 Seconds
1, 2, 3, 4, 5, 6 DO IT!
Aowaowaowaaa
A to the K
Hahahahaha
Badbwoy
So Good
Siren
We're talking about things we haven't done yet
Get busy Kru
Rim
Power of the darkside
Can I dream?
Extacy
Relax 1
Relax 2
Quite Relaxed
Chill Out
Rhythm
Hello Darkness
She's dead by now
Mentazm
The Core
Champion synth
Let it roll
None of you can be trusted with guns
Who told you to turn the music down?
Check 1, Check 2
Now
Time to get some jungle...
Hardcore Junglism
Laser blast
Dark
Drumz
Spin 1
Spin 2
Deck Stop
Scratch
I need something a little stronger
Pop
3, 2, 3 Let's Go!
Are you sure I'll be OK?
All Junglist!
Crack man… Don't do that
Crack man… Dangerous!
Horse
Dangerous
World of the LSD user
Push up the levels...
Scream 2
I'll give you something to scream about!
Dirtygames
I'm sorry… I don't understand
Times like these people wanna get high
Real high
Real fast
Baby
Who de bubmbaclaart
Hehehehe
Terminate
Track 3 - Johnny! Scotty! Ricky! Loop x 4
Track 4 - Classic Scratches
Track 5 - Beep! Aaaah! Fresh! x 4
Track 6 - Bonus Demonic Possession samples