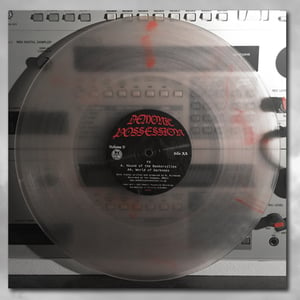 £

7.99
Ladies and gentleman, boys and girls... you are about to enter... a WORLD of darkness!
Two more despicably dark cuts from Demonic Possession head minion, FX, presented on the highest quality clear vinyl, complete with gruesome blood splatterings to shake up even the most headstrong of audiences!
Side A: "Hound of the Baskervilles"
Tips its hat to the 1930's b&w Sherlock Holmes flick of the same name, adding clattering Tango and Ratty style breaks and growling breakdowns to a rollercoaster oldskool bass - instant dancefloor demolition!
Side AA: "World of Darkness" Flip to the AA if you dare, for mangled breaks and grimy pads, coupled with insane trademark Demonic Possession film samples - all locked to a bouncing FM bass line for another 93 style dancefloor thrasher!
Bag this 12" today – IT'S TIME TO GET POSSESSED!!
Every order ships with FREE Demonic Possession stickers, while stocks last!
Please be sure to select the correct shipping option when checking out.